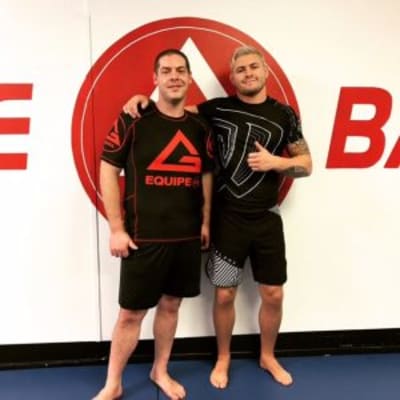 Coach Ryan Brandemihl
Pictured here with 2017 Abu Dahbi Champion Gordon Ryan, I came to Gracie Barra Novi in April 2015 and immediately was hooked on the Jiu Jitsu lifestyle! I had already changed my life for the better by losing 140 lbs. However, I needed something more than my standard monotonous gym routine that would provide a full body workout, both mental and physical stimulation and be fun. Jiu Jitsu was my answer. It is BJJ's mental stimulation that keeps me coming back. I strongly believe that as cliché as it sounds Martial Arts can change your life. While I'm training the outside world is silenced! When you have someone trying to choke you or break your arm it's impossible to think of life outside of that moment. Each time I train I learn something new and try to improve my game. The potential is limitless – you never stop learning. I recommend BJJ to everyone, especially parents with children as it teaches both groups valuable life lessons about courage, self-esteem, friendship, problem solving, self-defense, humility, patience, dealing with failure and so much more.
I am currently a proud Blue Belt under 2nd degree Black Belt Professor Jim Burchfield, and Coach Greg Fernandes. I've also had the privilege of training with Multi Time World Champions, Lucas Leite, Bernardo Faria, and Gordon Ryan.